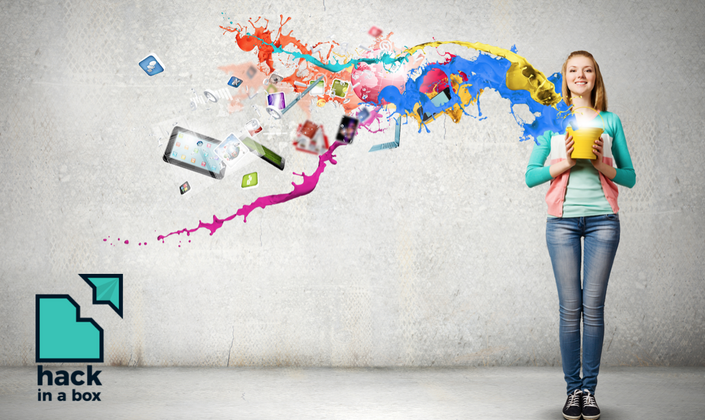 FREE TRIAL - Hack in a Box
Bringing real world critical and creative thinking skills to your classroom
Watch Promo
This free trial will give you a taste of the Hack in a Box program!

Hack in a Box is Australia's first schools' program that gets students solving real world challenges. During the program, students are taught a set of innovation tools that are based on the latest research into what has been scientifically proven to boost creative and critical thinking skills.
The program involves students working closely in groups, through a series of six in-classroom sessions, that can be tailored to fit any subject or extra curricular activity.
Students walk away with a scientifically proven innovation methodology that can be applied in any subject, in their personal life and beyond, to help solve any challenges they need to think creatively about. The skills learnt will ensure students are ready for the jobs of the future, where the ability to think critically and creatively is a must-have for employers.
Hack in a Box was designed by Organisational Psychologists and other science geeks at Inventium, Australia's leading innovation consultancy. Inventium's methodology has been scientifically proven to drive innovation, and has been taught to leading organisations all over the world, such as Google, Disney, LEGO, and many others.
This toolkit contains everything you need to be able to run the full Hack in a Box program in your classroom. It includes detailed session outlines, handouts and student videos.
Our Guarantee
If you finish the full length version of the Hack in a Box program, and don't fee both yourself and students have been energised and equipped with practical creative and critical thinking tools, let us know. We are super confident you'll get loads of value, but if you don't, tell us how much you thought it was worth, and we'll refund the difference.
Your Instructor

We're Inventium. Our science-based methodology has helped over 100,000 people become better innovators. We do this through skill building workshops, keynotes and assessment. We are also pretty handy at helping create a culture where innovation thrives. Our method is like design thinking, but with less art and a truckload more science. We've worked with organisations all over the world such as Google, Nestle, Disney and LEGO, creating innovation success stories.
We recently embarked on a mission to bring these same tools and methodologies to the classroom, to ensure that the next generation is equipped with the critical and creative thinking skills required to solve real world challenges of today.
Course Curriculum
Pre Program - Welcome to Hack in a Box!
Available in days
days after you enroll
Session 0 - Launch + Glove (5mins)
Available in days
days after you enroll
Session 1 - Idea Generation
Available in days
days after you enroll
Frequently Asked Questions
What is the current Hack in a Box challenge that my students will work on?
You'll get to choose one of three real-world challenges created by Inventium (each challenge has a different focus i.e. corporate, non-government, or a social issue) so you can select the challenge that best applies to your students and goals.
When do I have to run the program?
You can fit it into your timetable whenever it suits you. The 6 sessions can be run across a number of weeks, or back to back.
How many sessions are there?
There are 6 sessions designed around a 50-60min class period plus a pre-program activity which only takes 5 minutes.
What does the online toolkit include?
The toolkit contains everything you need to run the program including student videos, detailed session plans, teacher tips and handouts.